Welcome to the
International Association for Feedingstuff Analysis
Section Feedingstuff Microscopy
____________________________________________________________
Save the date!
The next anual meeting of IAG section Feed Microscopy will be held on:
12 to 14 June 2019 in Stade (Germany)
Together with LAVES (Lower Saxony State Office for Consumer Protection and Food Safety) the IAG-board will cordially invite you to join the annual IAG-metting – organized by LAVES at their institute in Stade (Germany) which is located close to Hamburg.
Take this great opportunity to meet your colleagues, to participate in exchange of information and discussiosn on relevant issues of an important area of monitoring.
Please find enclosed the official invitation letter by our colleagues of LAVES Stade and the official agenda of the IAG-Meeting.
agenda_iag_meeting_stade_2019_final.pdf - 439 kB
____________________________________________________________
Dear member,
 
The board of IAG section Feed Microscopy is glad to present you the Newsletter for 2018. There is much reading on interesting topics, but this is readily available in the Newsletter.
We will encourage you to distribute this Newsletter to other colleagues or institutes in your own network.
Newsletter 2018 Section Feed Microscopy
newsletter_2018_iag_section_feed_microscopy_final.pdf - 1 MB
For this moment we will also ask your attention for the programme of proficiency tests, at page 19. Also enclosed is the application form for the 2019 tests.
Ringtest Application Form 2019
application_form_iag_2019.pdf - 102 kB
____________________________________________________________
Insights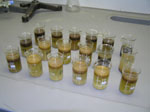 The microscopists of the IAG are your experts for microscopical tasks in feedstuff!